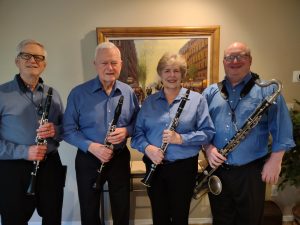 This clarinet quartet is called the Millennium Clarinets. They rehearse weekly and perform a wide range of different styles of music. The ensemble consists of three Bb clarinets and one bass clarinet, which gives them a very specific and interesting sound. Most of their music has not been written for this grouping of instruments, but arranged from music written for string quartets, orchestras, operatic scores, popular music, jazz, Dixieland, ragtime, Sousa marches and on and on. The members of this group are excellent performers and will add to the success of your meeting, reception, wedding, church service, retirement home, party or concert or any other gathering where music will add to the success of the event.
If you are interested in booking this group, please contact
Dale Cleland
503-603-0511
The performance schedule for the Millennium Clarinets is shown below.
September 10, 2022
Concert - Public Invited
Location: Level Beer
5211 NE 148th Ave
Portland, OR. 97230
Time: 2:00 - 3:30 pm
September 11, 2022
Concert - Public Invited
Location: Community of Faith
1889 SW Willamette Falls Dr
West Linn, OR. 97068
Time:
1st service 9:00 am
2nd service 10:30 am
October 15, 2022
Private Event
Location: The Springs at Clackamas Woods
Time: 1:00 pm
December 12, 2022
Private Event
Location: Homewoods on the Willamette
Time: 2:30-3:30 pm
December 15, 2022
Concert - Public Invited
Location: Portland International Airport
Time: 11:00 - 1:00 pm
December 17, 2022
Private Event
Location: The Springs at Clackamas Woods
Time: 1:00 - 2:00 pm
December 18, 2022
Concert - Public Invited
Location: Pittock Mansion
Time: 1:00 - 3:00 pm
December 20, 2022
Private Event
Location: Rose Villa Reitrement Complex
Time: 6:30 - 7:30 pm
January 20, 2023
Private Event
Location: The Ackerley in Sherwood
Time: 3:00 - 5:00 pm
February 23, 2023
Private Event
Location: The Springs at Carman Oaks
Time: 2:00 - 3:00 pm