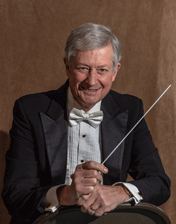 David M. Becker
Dave Becker was Director of Bands at Lewis & Clark College for 29 years, retiring in 2011. He conducted the Wind Symphony and taught courses in music education, conducting, jazz performance, and jazz appreciation. He also served terms as chair of the music department and worked with the Lewis & Clark Graduate School of Education and Counseling, supervising student teachers and teaching courses in the MAT-Music program. Through the college's Overseas Program, he created and led five semester-long fine arts programs in London.
Becker has adjudicated, managed, or conducted at over 300 music festivals in 21 states and Canadian provinces. His numerous appearances as a clinician at state, regional, and national music conferences have included conducting several all-state bands. He also has directed summer music camp bands in six states. Becker created the highly regarded Lewis & Clark Workshop in New and Proven Concert and Jazz Band Literature, which served band directors of all levels, and he directed the workshop between 1983 and 2016. While at Lewis & Clark, he also spent two years as Conductor-in-Residence at Oregon State University, conducting the OSU Wind Ensemble. As directors of Oregon Ambassadors of Music, he and his wife Kathy led nearly 3000 high school band and choir students and staff on biennial European concert tours. Their 12th and final tour in 2017 included participants from almost 100 Oregon high schools.
A firm believer in professional service, Becker is a past president of the Oregon Music Education Association, College Band Directors National Association NW Division, and Oregon Alliance for Arts Education. He was the first president of the Oregon Band Directors Association and chaired the association's Adjudicator Certification Committee for many years. He helped create and continues to be involved with the Oregon School Activities Association State High School Band & Orchestra Championships and was responsible for Oregon's High School Band Contest Literature List since its inception in 1984 through 2017. Recently, he completed an eight-year term as treasurer for the Oregon Music Education Association. He is a recipient of OMEA's John C. McManus Distinguished Teacher Award, the National Band Association Citation of Excellence, and lifetime service awards from the NW Division of the National Association for Music Education and the Oregon School Activities Association.
Becker has just concluded an eight-year appointment as Conductor of the North Coast Symphonic Band, based in Astoria. Having been involved in adult community bands throughout his nearly 50 years of teaching and conducting in Oregon, he is thrilled to continue making music with fine adult musicians through his new position in 2019 as Director of the Lake Oswego Millennium Concert Band. He played bassoon in the Eugene Wind Ensemble early in his career and was a charter member of the Salem Concert Band. After moving to the Portland area, he was principal bassoon in the Portland Wind Ensemble and later the Oregon Symphonic Band, which he also conducted for 10 years.
Becker met his wife Kathy in middle school through the outstanding band program in Corvallis, where her father, Harvey Brooks, was their high school band director. The Beckers both have undergraduate and graduate degrees in education from the University of Oregon. They began their teaching careers in Lakeview. Dave went on to direct high school band programs in Silverton, South Salem, and South Eugene. Kathy was an elementary classroom teacher for 30 years in Silverton, Salem, and Tigard-Tualatin schools. They are extremely proud that both their children, Allison and Andy, are third-generation Oregon public school music educators, teaching in the Lake Oswego and Beaverton school districts, respectively.
In retirement, Dave and Kathy reside part-time in Manzanita, where they enjoy salmon fishing on their boat "Major Scales" and exploring the beautiful North Oregon Coast. But more often now they are at home in West Linn, spending quality time with their children and grandchildren.