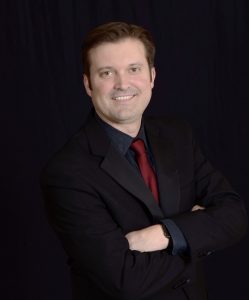 Dr. John Carter
Dr. John Carter is the Music Director at Portland Adventist Academy, where he directs the concert band, string ensemble, two choirs, handbells, drama, and yearbook. He has been active as a director for several of Portland's community ensembles, including the Oregon Pro Arte Chamber Orchestra, Jewish Community Orchestra, Sunnyside Brass Ensemble, and Advent Trombone Choir. Dr. Carter has also taught conducting and orchestration classes at Marylhurst University, was Interim Director of Orchestras at Lewis & Clark College in 2008, and has directed musicals with Trueheart Productions at Mt. Hood Community College.
Dr. Carter is from Southern California, where he received his masters and doctoral degrees in Orchestral Conducting from UCLA under the direction of Jon Robertson and Neil Stulberg. While in California, he served as Visiting Professor of Orchestral Studies at La Sierra University, where he directed the orchestra and taught instrumental conducting, orchestration, music appreciation, and a number of general education courses in American arts, literature and culture. Dr. Carter nearly doubled the size of the orchestra, quadrupled the number of orchestra concerts, performed at Walt Disney Concert Hall, and organized a benefit concert to raise funds for children in Rwanda. He also directed sold-out productions of The Sound of Music and Strauss's operetta Die Fledermaus.
As a horn player, Dr. Carter is equally at home with bands, and spent three years as Director of Bands at Loma Linda Academy. He oversaw five bands, organized music tours throughout the country, won multiple gold-rating awards at the Forum Music Festival, and co-commissioned and premiered a concert work by Eric Whitacre. Dr. Carter also studied horn with Jerry Folsom of the Los Angeles Philharmonic, and attended the Aspen Music Festival on horn.
An advocate of new music, Dr. Carter has premiered over two dozen compositions, including works by several film composers and three musicals. His own arrangements and compositions have been performed by a number of groups, including a commissioned work for the Jewish Community Orchestra of Portland. He also took private composition lessons with Larry Thomas Bell at the New England Conservatory of Music.
Dr. Carter has participated in over half a dozen music festivals and workshops, including the Aspen Music Festival, Cabrillo Festival of Music, Conductor's Institute at Bard, California Conducting Institute, Rose City Conducting Workshop, the College Orchestra Directors Association, and the Conductor's Guild, where he studied under conductors Alan Gilbert, Gustav Meier, Marin Alsop, Harold Farberman, Larry Livingston, John Farrer, Daniel Lewis, Donald Thulean, David Effron, and David Loebel.
Dr. Carter lives in West Linn with his wife Tiffany, four sons, a Bernese Mountain dog named Coda, and their cat Hazelnut.