T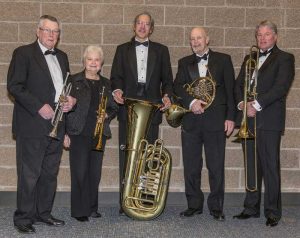 his ensemble is a Brass Quintet, consisting of two trumpets, a trombone, a French horn and a tuba. This standard instrumentation of brass instruments produces a most interesting blend of sound that has been cultivated by the popular professional ensembles, The Dallas Brass and The Canadian Brass Quintets. The Millennium Brass will add to the joy and success of any gathering. They play concerts, receptions, parties, church services and a myriad of special events. Their regular rehearsal schedule allows them to perform exceptionally well and to play many varied styles of music from original brass quintet music to arrangements of classical, jazz, dance band, ballads and many other forms of music. Their music will be sure to add a special flair to your next event.
If you are interested in booking this group, please contact
Dale Cleland
503-603-0511
The performance schedule for the Millennium Brass is shown below.
May 4, 2019
Concert: Kentucky Derby Party
Location: Northwood Public House & Brewery
Battle Ground, WA
Time: 1:30 - 3:00 pm
November 11, 2018
Concert: Public Invited
Location: King City Clubhouse
Time: 2:00 - 3:00 pm
May 5, 2018
Private Event
Location: Portland Yacht Club
Time: 3:00 - 5:00 pm
March 4, 2018
Pre-concert Music for Lake Oswego Millennium Band Concert
Public Invited
Location: Lakerige High School Auditorium Lobby
Time: 6:45 - 7:15 pm
October 9, 2017
Concert: Public Welcome
Location: King City Clubhouse
Time: 10:30 - 11:30 am